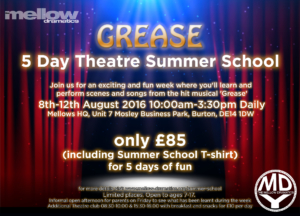 Do you love Theatre and Musicals?
Are you aged between 7 and 17?
Then you'll love our 5 Day Theatre Summer School in Burton on Trent this August!
The Summer School will involve Vocal and Physical Warm-Ups along with Character Exploration, Singing, Dialogue, Movement with the aim to perform a short section from the Musical Grease on Friday Afternoon. It will also be lots and lots of fun!!
Click Here to see full details.